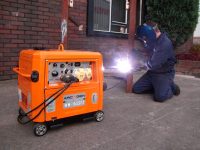 We supply welders and leads for use with our grundomat piling hammers and dropweight piling rigs when installing steel cased bottom driven piles.
Mini Piling Plant Hire stock a wide range of welders, welder generators, welding leads, welding rods, welding masks and other accessories for delivery or collection nationwide.
For use with Grundomat hammers and dropweight piling rigs when installing Bottom Driven piles.
Bottom driven piles are used in poor ground conditions, or restricted sites, where deep foundations are impractical.
Bottom Driven Piles are installed by driving a close ended steel pile tube to the ground with an internal drop hammer and drop weight piling rig, or grundomat pneumatic piling hammer and compressor.
A thin walled close ended steel pile tube, or starter is driven first in lengths ranging from 1 to 3 metres.
Once the first length has been driven, the process is continued by slotting an open ended steel pile tube, or follower into the back of the starter and joining it with a full fillet weld.
Followers are driven into the ground by repeating the process until the required depth or predetermined set is reached.
The drop hammer weight or grundomat hammer is then retracted and the pile tube is filled with concrete or grout.
At Mini Piling Plant Hire we also supply a broad range of piling rigs and grundomat piling hammers suitable for all types of project and any required accessories at extremely competitive hire rates throughout the UK.
Rigs, Accessories and Associated Plant can be collected using your own transport, or delivered nationwide.
Please call us on 0161 622 1169 to discuss your requirements.