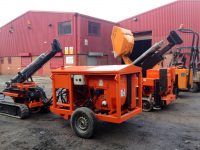 The GP Services D500 Drop Weight Piling Rig is a compact drop hammer piling rig with a towable power pack and a maximum lift capacity of 500kg. Its size, towable power pack and optional umbilical hoses make it ideal for use on restricted sites and inside buildings.
For installing bottom driven piles at  100mm,  150mm,  165mm,  198mm,  220mm  and  273mm diameters.
Maximum lift capacity: 500 kg.
Can be supplied with the following weights – 6" weight 220 kg, 7" weight 350 kg, 8" weight 500 kg.
Can be supplied with mast extension if required.
Bottom driven piles are used in poor ground conditions, or restricted sites, where deep foundations are impractical. They are installed by driving a close ended steel pile tube to the ground with an internal drop hammer and drop weight piling rig, or grundomat pneumatic piling hammer and compressor.
We can supply D500 Dropweight Piling Rigs and any required accessories at extremely competitive hire rates throughout the UK. Rigs, Accessories and Associated Plant can be collected using your own transport, or delivered.
Please call us on 0161 622 1169 to discuss your requirements.
Manufacturer GP Services
Height Mast Up: 4200mm
Height Mast Down: 3200mm
Transport Mode Height: 2000mm including mast extension, which can be removed for restricted access sites (Can fit through any standard doorway).
Length of Crawler Mast Up: 1820mm
Length of Crawler Mast Down: 3320mm (Includes Mast Overhang)
Width of Crawler Tracks Extended: 1020mm
Width of Crawler Tracks Retracted: 720mm
Width of Power Pack: 1400mm
Weight of Crawler: 980kg
Weight of Power Pack: 1000kg
Track Material: Rubber
Mast Angles: – 5 / + 75
Drop Winch: Pullmaster PL5B
Engine: hATZ 2CL diesel 19kw (25hp) @ 3000rpm
Manufacturers spec sheet: