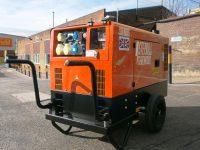 We supply portable site generators for use with our piling rigs and accessories.
Mini Piling Plant Hire stock a wide range of 110volt and 240volt site generators in different sizes and Kilovolt-amps or KVA, along with angle grinders, breakers and other 110volt and 240volt electric tools and accessories for delivery or collection nationwide.
At Mini Piling Plant Hire we also supply a broad range of piling rigs and grundomat piling hammers suitable for all types of project and any required accessories at extremely competitive hire rates throughout the UK.
Rigs, Accessories and Associated Plant can be collected using your own transport, or delivered nationwide.
Please call us on 0161 622 1169 to discuss your requirements.