Grundomat Piling Hammer Hire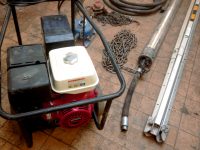 Our fleet of 130 and 95 grundopile grundomats are pneumatically operated, self contained reciprocating piling hammers ideal for use on restricted sites such as household extensions or one off house builds.
For installing bottom driven piles at  100mm,  150mm  and  165mm  diameters.
Bottom driven piles are used in poor ground conditions, or restricted sites, where deep foundations are impractical. They are installed by driving a close ended steel pile tube to the ground with an internal drop hammer and drop weight piling rig, or grundomat pneumatic piling hammer and compressor.
Powered by a standard 2 tool tow-able compressor, their low weight and compact size means they will easily fit through a standard doorway, ideal for internal piling work, particularly underpinning existing structures.
Grundomats are used to installing bottom driven steel cased piles of 100mm, 150mm and 165mm nominal diameter to accommodate loads of up to 150kN.
Because of their low weight, compact size and versitile nature Grundomat hammers are an extremely popular piling solution for many small projects.
We can supply 95 or 130 grundomat hammers, accessories such as long link lifting chains, hoses, oil bottles and welders at extremely competitive hire rates throughout the UK. Rigs, Accessories and Associated Plant can be collected using your own transport, or delivered nationwide.
Please call us on 0161 622 1169 to discuss your requirements.
Manufacturers spec sheet: