Overburden Drilling System Hire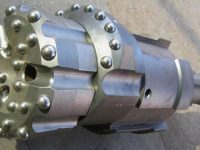 We supply a wide range of Overburden Casing System Drill Bits for DTH Hammers, for the installation of Steel Cased Drilled Mini Piles.
Mini Piling Plant Hire stock a wide range of Overburden Drill Bits, DTH Hammers, Shock Absorbers, drill rods, spanners, drive subs and pile shoes for delivery or collection nationwide.
For installing Steel Cased Drilled Mini Piles.
150mm, 220mm, 300mm, 350mm and 450mm diameters.
Steel Cased Drilled Mini Piles are used where underground obstructions such as rocks, boulders and mass concrete are expected, but conditions include loose, unconsolidated material (so-called overburden) and will not allow the pile bore to stay open without support, to penetrate hard strata to form a pile, or rock socket into a rock layer or bedrock.
If ground conditions contain rocks and underground obstructions and will allow the pile bore to stay open without support, please see Open Hole DTH Drill Bit Hire
The Overburden Drill Bit is the cutting face that attaches to the end of a Down The Hole Hammer, as the bit drills into the overburden it advances the steel casing at the same time preventing the hole from collapsing.
A DTH Hammer is a pneumatically operated, self contained recipricating hammer designed to be screwed on the bottom of a drill string.
Powered by high volume air compressor, the fast hammer action breaks hard rock into small flakes and dust and is blown clear by the air exhaust from the DTH hammer.
DTH Drilling is one of the fastest ways to drill into hard rock.
Steel Cased Drilled Mini Piles are installed by drilling into the ground with a the DTH hammer, Overburden Casing System Drill and steel casings to a specified depth.
Once the drilling string is retracted from the bored hole it is filled with grout or concrete and a single bar or reinforcing cage is inserted.
At Mini Piling Plant Hire we also supply a broad range of DTH Drilling Rigs suitable for all types of project and any required accessories at extremely competitive hire rates throughout the UK.
Rigs, Accessories and Associated Plant can be collected using your own transport, or delivered nationwide.
Please call us on 0161 622 1169 to discuss your requirements.