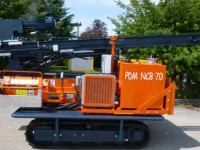 The PDM has a 360 degree slewing action, allowing piles to be driven around the rig without needing to move it. It is capable of piling on steep slopes and awkward sites with ease.
This rig, larger than any other rig in our fleet, can be set up fast and easily thanks to it's self-leveling mast, saving you valuable piling time. it will level itself on both vertical and horizontal axis at the push of a button.
​An extremely efficient rig, the PDM will save you time and money as it drives the required piles at a faster rate than most other rigs.
​
If you would like a free quote, please call 0161 622 1169 or click here to contact us.