Pauselli Pile Driving Rig Hire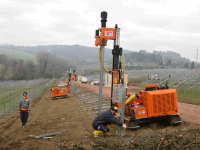 The Pauselli self propelled pile driving rig is a compact and innovative machine capable of driving and removing piles for solar panels and armco barriers along with the istallation or removal of fence posts.
​
Pauselli pile driver machines are used for most major road safety works and photovoltaic solar farm installations. It can also install fence posts, with extreme accuracy and speed in any ground conditions. The rig can be utilised for all sectors that require the driving and screwing, the extraction of iron and wooden piles, and other systems of anchorage.
​
Pauselli solar piling machines compact and lightweight track frame allows installations on uneven ground. It's multidirectional boom mast allows quick and accurate adjustments to be made to the pitch and location of the piles on the fly.
​
For operator safety and ease of use control levers are applied on the lateral side of the column. This allows the operator to move and position the machine outside the old barrier, correctly positioning the post, enabling swift and effective pile and post implementation.