GAYK HRE 1000 PB 310 Hire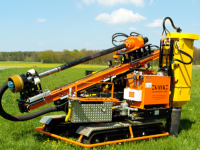 Our GAYK HRE 1000 PB 310 solar piling rig is a powerful and compact machine capable of driving posts with a maximum length of 4300mm/13.7ft. With 530-1150 impacts per minute and a 136kg hammer, you can be sure that your job will progress on time.
With a transport length of 3050mm, a breath of 2000mm and a height of 2200mm, the GAYK HRE is suitable for jobs within limited space. A well known classic for a reason, the GAYK HRE 1000 will surely be a useful asset to your team on site.
For more information about our rates or to receive a copy of the full specification, please contact us at info@righire.co.uk or call us on 0161 622 1169.