MRZB Mini Piling Rig Hire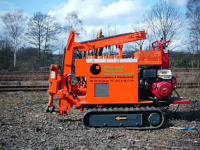 Our MRZB mini drilling rig is a compact and versatile geo-environmental rig used to gather data for site investigation reports in even the most difficult conditions.
A site investigation and recommendation report will give you an overview of ground conditions before starting your project.
​
This allows you to avoid costly mistakes, and select the most appropiate installation method for the ground conditions.
With adjustable track width, high impact hydraulic hammer, guided drop weights, and 21 ton lift extruder. This multipurpose rig allows us to offer dynamic probing (both dph and dpsh) and standard penetration tests, along with being able to take window samples for cu and lab analysis if required.

​
The MRZB is light weight and easy to use in confined spaces. It's 21 ton lift extruder means that deeper drilling is possible even in difficult ground conditions where retrieval may not be possible with the mast only.