TH1500 Top Hammer Piling Rig Hire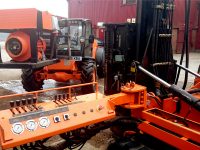 The GP Services D1000 Drop Weight Piling Rig is a compact 9.2 tonne top drive piling rig capable of installing 200mm x 200mm precast concrete piles or 140mm thickwall steel piles at a rate of 67 blows per minute, making it a fast and therefore competitive piling solution for the installation of top driven piles
Top Driven Piles are particularly suited to either difficult driving conditions with fill and obstructions, or contaminated sites, as it's a displacement piling method and won't produce any spoil.
For installing top driven piles.
200mm² pre-cast concrete and 140mm thickwall steel piles.
Top Driven Piles are installed by driving a precast concrete or thick walled steel pile tube into the ground with hydraulic drop hammer mounted to a tracked top drive rig.
Once the pile section is driven another one is connected using a pile collar for thick walled steel, or link for precast concrete piles.
Sections are driven until the required depth is reached.
It's 4 cylinder Hatz Silentpack air cooled diesel engine keeps the noise and environmental impact to a minimum. However we can supply an alternative powerpack option, a 3 phase electric powerpack ideal for internal installations within pollution sensitive areas.
The adjustable mast height gives flexibility enabling the use of 2, 3 and 4 meter pile sections, a further advantage when sourcing materials.
The TH1500 is a powerful, compact and agile rig ideal for restricted access and clean air sites. It's ease of use, flexibility and range of options make it an extremely popular machine amoungst our clients.
We can supply the TH1500 Top Hammer Piling Rig and any required accessories at extremely competitive hire rates throughout the UK.
Rigs, Accessories and Associated Plant can be collected using your own transport, or delivered nationwide.
Please call us on 0161 622 1169 to discuss your requirements.
Manufacturer GP Services
Height Mast Up 5175mm
Height Mast Down 2300mm
Length 4000mm
Weight 9250kg
Mast Length 5175mm
Max drop 400mm
Feed stroke 4200mm
Casing length 2/3/4 meter
Hammer weight 1500kg
Mast angle -5 + 80
Engine Hatz 4 cylinder silent
Power 46kw (62hp) @ 2600rpm
Manufacturers spec sheet: