Geax XD9 Drilling Rig Hire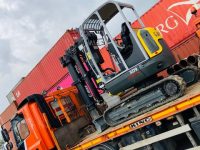 Our Geax XD9 is a drilling rig for installing bored piles. The XD series are the smallest hydraulic piling rigs in the world and are designed to work in tight spaces. The minimum working height is just 2.8m and a width of 1.6m.
Although compact, the XD9 is equipped with all the features of a larger rig, such as depth meter, spin off speed auxiliary winch and winch limits. The rig maintains perfect verticality by way of the VDS (Vertical Digging System).
For more information on our GEAX XD9 Drilling rig, email us at info@righire.co.uk or call us at 0161 622 1169.