Towable Concrete Pump Hire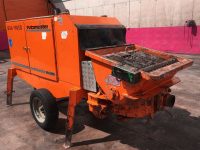 We supply 0-50M³/HR towable concrete pumps with 100mm hoses for use with our drilling rigs for installing SFA Sectional Flight Augered piles.
Mini Piling Plant Hire stock a range of concrete pumps, hoses, couplings, cleaning balls, elbows and other accessories for delivery or collection nationwide.
Used for pumping liquid concrete, towable concrete pumps are ideal for use with the Hutte HBR203 drilling rig for installing SFA piles.
They can also be used for large construction projects and resurfacing works.
Continuous Flight Augered and Sectional Flight Augered piling are some of the quietest piling solutions available and are virtually vibration free, making them ideal for working in close proximity to existing buildings, in restricted access, low headroom, residential or in environmentally sensitive sites.
Typically used when heave is a possiblity, but ground conditions will not allow the pile bore to stay open, to achieve a higher load capacity, or reduce vibrations caused by driven piles.
For use with a drilling rig when installing SFA augered piles.
150mm, 220mm, 300mm, 350mm and 450mm diameters.
0 to 50 metres cubed per hour.
Road towable.
SFA Piles are installed by drilling into the ground with a hollow stemmed auger to the depth specified. As the auger drills into the ground the spoil travels up the flight and is removed once above ground level.
Concrete or grout is then pumped through the centre of the augers as they are retracted, preventing the hole from collapsing.
Finally steel reinforcement is inserted into the concrete pile to the required depth.
At Mini Piling Plant Hire we also supply a broad range of SFA piling rigs suitable for all types of project and any required accessories at extremely competitive hire rates throughout the UK.
Rigs, Accessories and Associated Plant can be collected using your own transport, or delivered nationwide.
Please call us on 0161 622 1169 to discuss your requirements.